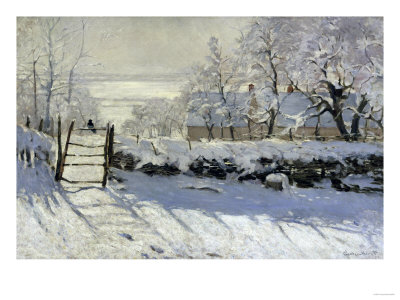 The Magpie, c.1869
Claude Monet
The Best Homemade Gift Ideas Monthly Digest: free-gift-ideas-newsletter-January2012.html
by: Brenda Mullard
Table of Contents:
1. What Have You Done Creative Today?
2. New Year, New Contest!
3. Welcome New Subscribers
4. What's new?
5. Project Of The Month
7. Reader Recipe of the Month


One of my goals is to be recognized by Best Ezines.com. Please go and vote for us. Tell your friends and family to do so too!
1) What Have You Done Creative Today?
Creativity comes in all shapes and sizes. I'm not talking about the creator, I am taking about the task at hand. If you are someone who hardly ever tries to create something and you are constantly comparing yourself to the masters, Monet, Edison, Dickens… forget it! You will fail miserably and quit. So often we compare our selves to people who have been the BIG creators and there's no way we can. I mean seriously, I am no Martha Stewart, I won't even pretend to try to compare myself to her. I can make some pretty cool stuff, but I mean, come on, I know my limits. That doesn't stop me from trying new things. Do I fail sometime? Absolutely! In fact miserably sometimes, but that's ok! Do I try it again and fail again? You better believe it. But the next time I "fail better".
Tapping into your creativity doesn't mean giving up your day job to crank out master pieces of art work or compose the next hit rap song. I mean if you do, that's awesome! But keep in mind your limits. It means trying things in a little differently. When you make dinner, add some new spices or combine your ingredients in a different order. It's making that volcano with your 7 year old for science class. It's making up new skill drills while coaching your daughter's soccer team.
Everyone has the capacity to have a little creativity, but must of us don't tap into it until something goes awry and we have to go to plan B.
The point of a little creativity is to express and challenge yourself, to make meaning, to enhance your life. It's not about being the best at something, but about becoming better than you are. And as you tinker with your poem, or work you might even change your brain. Scientists have found that people who consistently engage in creative activities become better and faster at marshaling the brain's creative networks. In other words, the more you are, the more you will be.
So try that painting class you have always wanted to try. Go to the gym and try a new exercise routine. Write a poem about the job you will have by next year. What ever you try, make it creative, get a few critiques from trusted family or friends, take what will work and leave the rest behind! Have a great 2012!

2) More Contests In 2012 I would LOVE to offer contests each month for various things throughout 2012. For the month of January I am running the first contest of 2012. The theme is Winter. Create a gift idea that reminds you of or could be given to someone during the winter months. Make sure you explain how you create the gift step by step and include a few pictures along the way. YAY!! I can't wait to see what you all do. Submissions begin January 1 and will be accepted through January 31st.
Check out our 1000 FaceBook Fans giveaway for your chance to win a $10.00 gift card.
Go to our Contests and Giveaways Page

3.Welcome New Subscribers We have a lot of new subscribers in the recent months. I welcome all of you to this wonderful community. I am looking for some administrator help with The Best Homemade Gift Ideas Facebook Page. Anyone out there interested in becoming an assistant administrator? Let me know. E mail me!



4)What's New? I have added a project called

Build Your Own Snowman Cookies This is a fun baking project that is Yummy, creative and fun to put together. Check it out.

I have also added a page called How To Make A Wreath with all the great sallied on after season Christmas items, you can get a jump start on next year!

In keeping with the creativity theme I have also started an Art Classes page. My hope is to add a monthly tutorial that goes with the season or month.


5) Project Of The Month This month's project was submitted by Dana H. She created this great Candy Cane Ornament Thanks for the submission Dana!! Awesome idea and project. Do you have a project you have created and would like to share? Get it published! Click HERE

6)Reader Recipes Do you have a hardy winter recipe you would like to share? I love hot home cooked meals on a cold winter's day. I always love to try new recipes as well. Submit a new recipe to my share your ideas page







I try to add to The Best Homemade Gift Ideas Blog when I can. Check back often for new ideas, daily thoughts and just great information.

We also have a Discussion Board up and running. We are always looking for your new ideas and want to hear what you have to say!

You can also find The Best Homemade Gift Ideas on Facebook! Stop by and like us!

I am always playing around with greeting card ideas and designs. I have some great new Christmas cards ready for you to send to your favorite people. Are you looking for a certain themed card? Let me know and I will come up with the design you are looking for.





Do you have a talent, a passion or just know a lot about a certain subject? Do you want to learn how to make money by sharing what you know?

I never thought it was possible and yet here I am! I am so lucky to be able to do all the things I am able to with my kids and husband. Gradually I have seen my website take off and it has been an exciting ride. I would have never believed that I could get paid to share information about subjects I know and love. Even if you are a little bit skeptical watch the passion video. It's amazing what you can do and where Site Build It will take you!

Wanna try SBI? Well than TEST DRIVE IT!







To The Best Homemade Gift Ideas homepage

The The Best Homemade Gift Ideas Blog!

The Best Homemade Gift Ideas Discussion Forum

To Build A Snowman Cookies

Edible Gift Ideas

Art ClassTutortals