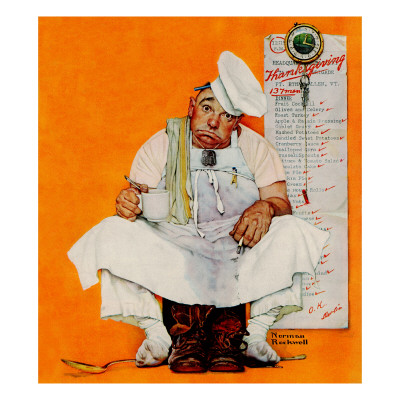 "Thanksgiving Day Blues", November 28...
Norman Rockwell
The Best Homemade Gift Ideas Monthly Digest: free-gift-ideas-newsletter-November2011.html
by: Brenda Mullard
Table of Contents:
1. Gobble Till You Wobble!
2. Edible Gift Recipe CONTEST!
3. Welcome New Subscribers
4. What's new?
5. Project Of The Month
7. Reader Recipe of the Month


We are in the running for The Best Newsletter!!!! Please Vote Now!!!
1) Gobble Til You Wobble! It's Thanksgiving time again and if you are like me you will sample every dish of delightful yumminess on the table. I know after I indulge I always think,"Why did I do that?" Now seriously, are you going to eat less? Maybe you have better will power than I do, because I know if it looks good, I'm trying it! Here are a couple ideas for you to fight the bulge as well as help with that guilty, "I can't believe I just ate that" feeling. Did you know the average Thanksgiving meal contains about 2000 calories? Here are a few tips to help you if you are trying to watch your waistline without depriving yourself. 1) Try not to go to Thanksgiving Dinner Hungry. Now that doesn't mean fill up prior to heading to Grandma's house so you don't eat anything at dinner time. We don't want anyone to get upset or offended. Just simply make sure you eat a healthy breakfast in the morning and depending on what time your Thanksgiving meal is presented, try to eat light snacks throughout the day to keep yourself satisfied.
2) How many of you overfill your plate? Need 2 plates for all of your goodies? I've been there! Try to fill your plate with a lot of fruits and veggies first, then move onto turkey and finally go for the starches and fats. Keep it to 1 plate!
3) Watch your portion size. Clench up your fist. The size of your fist is the size of the portion you should take. Or think of what a handful looks like. Keep your portion size within reason. This is a standard rule to live by with any meal.
4) Make a conscious choice to limit fats and sugars. But they are so yummy… I know I know! But try your best to limit those items n the plate just because we all know they aren't good for us at anytime of the year. You can really load on the calories in something like a ladle full of gravy.
5) Drink plenty of water. If you are dehydrated you tend to eat more food not realizing you are actually thirsty and not really hungry. Plus water is calorie free and makes you feel fuller if you have a glass of water a little bit before you eat.

2) EDIBLE GIFT RECIPE CONTEST

Are you getting ready for the holidays? How about a little help with your Christmas shopping?

Do you have a delicious or creative edible gift idea? Enter it now! Make sure you include the whole recipe, a photo and the directions on how to make it. 2 recipes chosen will win a $10 Target Gift Certificate EACH!

Please include how you have presented the gift along with any interesting packaging ideas.

I'm so excited!! I just can't wait to see what all of you creative folks come up with.

Disclaimer: This contest is in no way affiliated with the Target company, Facebook or any other company or affiliate



3.Welcome New Subscribers A big welcome goes out to all of my new subscribers! This website wouldn't be worth creating if it weren't for my wonderful valued readers. Thanks for your continued support! I have been receiving some awesome homemade gift ideas from many of you. Keep them coming. Don't forget to attach pictures along with your instructions.

GET PUBLISHED TODAY!


4)What's New? EXTRA EXTRA READ ALL ABOUT IT! The Best Homemade Gift Ideas webpage will soon be getting a new look. Watch in the next few months for this exciting change. All the great information, instructions and recipes with a newer look.

Have you started thinking about Christmas gift ideas yet? I know I have! Click HERE for great ideas and project instructions. I am always looking for new and interesting ideas from our wonderful and creative readers! Please keep them coming. I look forward to seeing what everyone comes up with.

Artists and Crafters... WE WANT YOU! Do you like to create homemade gifts or have a crafty hobby others would like to hear about? We want YOU!! Like always, if you try a gift idea from the website or any other, show us pictures and tell us how it all went for you! We all learn from each other.

5) Project Of The Month Need a colorful and creative Thanksgiving centerpiece?

Learn how to make this pumpkin floral centerpiece now!


6)Reader Recipes Here's a little healthier way to make sweet potatoes for that big Thanksgiving dinner. No need for marshmallows here.

Honey Glazed sweet potato recipe




I try to add to The Best Homemade Gift Ideas Blog when I can. Check back often for new ideas, daily thoughts and just great information.
We also have a Discussion Board up and running. We are always looking for your new ideas and want to hear what you have to say!

You can also find The Best Homemade Gift Ideas on Facebook! Stop by and like us!

I am always playing around with greeting card ideas and designs. I have some great new Christmas cards ready for you to send to your favorite people. Are you looking for a certain themed card? Let me know and I will come up with the design you are looking for.




Do you have a talent, a passion or just know a lot about a certain subject? Do you want to learn how to make money by sharing what you know?
I never thought it was possible and yet here I am! I am so lucky to be able to do all the things I am able to with my kids and husband. Gradually I have seen my website take off and it has been an exciting ride. I would have never believed that I could get paid to share information about subjects I know and love. Even if you are a little bit skeptical watch the passion video. It's amazing what you can do and where Site Build It will take you!
Wanna try SBI? Well than TEST DRIVE IT!


To The Best Homemade Gift Ideas homepage

The The Best Homemade Gift Ideas Blog!

The Best Homemade Gift Ideas Discussion Forum

Pumpkin Floral Centerpiece instructions

Edible Gift Ideas

To the paper greeting cards page