Art Classes Give the Creative Person The Green Light To Do Something For Themselves


Speaking from experience I LOVE art classes. I am creative to the core and I am someone who needs to make things to keep my sanity. I seriously get crabby if I am not creating or given the time to be creative. Most people don't realize they have a talent or a spark for creativity. Can you learn to be creative? I believe you can. I see so many people who have never taken an art class and when they do absolutely love what they tried and created. They often wish they would have tried learning how to draw or paint, or take a sculpture class or a life drawing class at a local college or art school sooner. "But I'm not very good." Seriously??? Isn't that a matter of opinion? And why are we so judgmental? If creating makes you happy does it matter what you are making? Does it truly matter what other people think about it as long as you are happy and doing what you love?
So here are some ideas for the creative person on your list.
Buy a gift certificate for different art or craft classes you think the person will like or has always wanted to try.
Buy a bunch of painting supplies along with painting books or DVD's and put them all together in a basket as a gift.
The Joy of Painting Series on DVD
Building a Portrait
Breaking The Rules Of Watercolor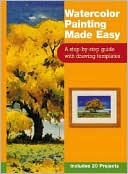 Painting Supplies For The Creative Person
Liquitex Acrylic Paint Set of 48


Painting Tutorials
Painting Lessons

From Art Classes gift idea to The Best Homemade Gift Ideas homepage.


I am looking for new and creative homemade gift ideas!
Do you have a great homemade gift idea? Do you have a craft that could be turned into a homemade gift and you want to tell us how to do it? Please tell us all about it! Remember.... We all love pictures and clear instructions to follow.
What Other Visitors Have Said
Click below to see contributions from other visitors to this page...

Guitar Songbook Not rated yet
Guitar Songbook: The perfect birthday idea for a kid if they play guitar and they like making songs. -Scissors -Hole Punch -Paper -String …