Learning how to decoupage glass plates may look complicated, but it's relatively easy.
These decoupage glass plates are fun and beautiful gifts that can be about a memory, a season or holiday, or just for the decor of it!


Decoupage Plate Materials
clear glass plate
Tissue Paper
(Other kinds of paper can also be used such as wall paper samples, magazine photos, etc.)
Decoupage Medium ( I use Plaid Mod Podge )
Fiskars Titanium Scissors
Exacto Knife
Delta Glass Paint
(Optional)


Decoupage Instructions
Find the colors or pictures that you would like to use for decoupage. I sometimes like to draw out my design on a piece of white paper and then use the colors of tissue that look best with my design.
Cut pieces to fit the glass plate plate or pattern.
Lay out you paper the way you would like it to look on the plate. Even lay the plate down on top of the pieces so you can really get a good idea of what it will all look like once the plate is finished.
Once you have the pieces just right use the decoupage medium and apply it to the BOTTOM or back side of the plate.
Stick your paper pieces into the Mod Podge on the back side of the plate, Make sure any picture pieces are stuck picture side down into the Mod Podge so the image shows through to the front of the glass plate.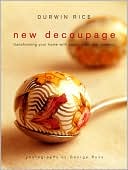 From How to Make Decoupage Glass Plates to The Best Homemade Gift Ideas home page

To more Mother's Day Gift Ideas

To More Christmas Gift Ideas