This Pumpkin Pie Recipe is really easy and absolutely delicious!!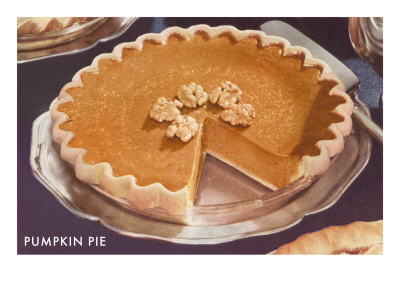 Pumpkin Pie with Walnuts
What would Thanksgiving be without a pumpkin pie recipe? For me it just wouldn't be Thanksgiving without yummy pumpkin pie! If you are looking to reduce calories try using low fat cream cheese as well as splenda instead of sugar. If you are not keen on the half and half you can reduce the amount you add or leave it out all together. I also like more pumpkin pie spice, so I tend to add more than what is called for. I have make this recipe both ways, regular and reduced fat and sugar and I thought it turned out great each time.
Pumpkin Pie Recipe Ingredients
1 (8-ounce) package cream cheese, room temperature and softened
2 cups canned pumpkin, mashed
1 cup sugar
1/4 teaspoon salt
1 egg plus 2 egg yolks, slightly beaten
1 cup half-and-half
1/4 cup (1/2 stick) melted butter
1 teaspoon vanilla extract
1/2 teaspoon ground cinnamon
1/4 teaspoon ground ginger, optional (Or instead of the cinnamon and ginger you can add a premade pumpkin pie spice)
1 piece pre-made pie dough
Whipped cream, for topping

Pumpkin Pie Recipe Directions
1)Preheat the oven to 350 degrees F.
2)Place 1 piece of pre-made pie dough down into a (9-inch) pie pan and press down along the bottom and all sides.(When I'm in a pinch I settle for the store bought pie crusts. It turns out just fine and no one ever complains!) For a homemade pie crust, pinch and crimp the edges together to make a pattern. Using a fork to press into the crust will work great too. Just a little bit of a different look.
3)Put the pie shell back into the freezer for 1 hour to firm up.
4)Fit a piece of aluminum foil to cover the inside of the shell completely. Fill the shell up to the edges with pie weights or dried beans (about 2 pounds) and place it in the oven.
5)Bake for 10 minutes, remove the foil and pie weights and bake for another 10 minutes or until the crust is dried out and beginning to color.
6)For the easy pumpkin pie filling, in a large mixing bowl, beat the cream cheese with a hand mixer until creamy.
7)Add the pumpkin and beat until thoughly combined. Add the sugar and salt, and beat togther.
8)Add the eggs mixed with the yolks, half-and-half, and melted butter, and beat until combined. Finally, add the vanilla, cinnamon, and ginger, (or pumpkin pie spice)and beat until incorporated.
9)Pour the filling into the warm prepared pie crust and bake for 50 minutes, or until the center is set.
10)Place the pie on a wire rack and cool to room temperature.
11)Cut into slices and top each piece with a generous amount of whipped cream.
From Pumpkin Pie Recipe to The Best Homemade Gift Ideas homepage

To more edible gift ideas


A few things that might interest you!
Looking for Pumpkin?
Hershey's Brand Pumpkin Spice Flavored Kisses, 10 oz. bag
Frontier Pumpkin Pie Spice, 16 Ounce Bag
Harold Pie Crust Maker 11"
Heaven Mills Gluten Free Pie Crust